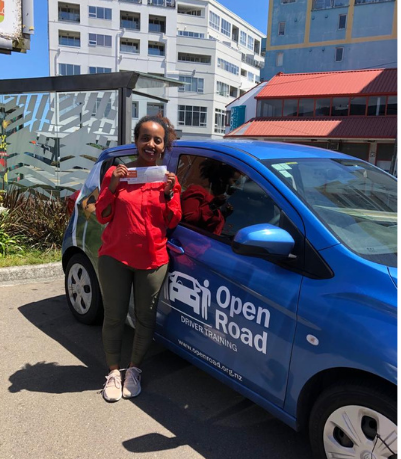 The Open Road programme aims to help refugee background people to get their restricted licence. Being able to learn to drive is important to many former refugees for access to work, as well as to support their greater participation in their wider communities. Having your licence supports longer terms goals of employment and independence. Learning to drive can be difficult without a car or a person to help teach driving skills.
How the programme works
Over 12-20 weeks, mentors provide 2-3 hours' worth of lessons per week in a dual control car (provided) in addition to a number of lessons from a qualified driving instructor.
The learner will be assessed on a monthly basis and when considered ready to sit the test will be given a mock test prior to sitting the real thing.
Want to be considered for the programme?
Applications for our first intake of learners in 2021 are CLOSED. If you want to be considered for the second intake of learners in late 2021 please complete the Expression of Interest below Form and email it to kate.twyford@crf.org.nz. We will keep your details and advise you when applications re-open.
Remember to be eligible you must already hold your learner licence. You must also have a good level of English and some driving experience.
Keen to help as a volunteer driving mentor?
We are looking for more awesome men and women to volunteer as driving mentors on our programme in central Wellington in 2021. The commitment is 2 hours a week for 16 to 25 weeks, please email kate.twyford@crf.org.nz for more information. We would love to hear from you!
We will provide a dual control car to practice in (you don't need to use your own!), give you training and driving instructor support. The Open Road programme is also running in Palmerston North, Nelson, Dunedin, Hamilton, and Auckland – if you want to volunteer in one of those regions, you can find information here.
Please complete the Driving Mentor application form and Police Vetting form and return them to kate.twyford@crf.org.nz
Need to know more? Contact kate.twyford@crf.org.nz
Our sponsors and the history of the programme
The programme is possible due to the generosity of Wellington volunteers who commit their time to help our former refugee learners practice their driving. It's their support, patience and encouragement that helps our learner's get their full licence.
We also express our thanks to the support for the programme from Ministry of Business, Innovation & Employment and Immigration New Zealand. As part of developing the New Zealand Refugee Resettlement Strategy consultation with refugee background communities was held in May 2013. Former refugees were asked about the most helpful activities for newly arrived refugees at Mangere Refugee Centre and about the best ways to help them transition into their new communities.
From there, the Refugee Driver Training Programme was launched in Hamilton, Palmerston North, Wellington & Nelson. ChangeMakers Resettlement Forum runs the Wellington programme.