You can support our work by contributing your time and expertise as a volunteer.
At the moment, we have vacancies on our driving programs for female volunteers from the Greater Wellington region (on Turning the Curve) and for male and female volunteers in Wellington (on Open Road).
Vacancy – Female volunteers on Turning the Curve
We're looking for some remarkable women for our TTC Driving Programme willing to volunteer their time to take a refugee-background woman for driving practice.
The learner drivers have had lessons with a driving school and need practice to prepare for their restricted licence test. The learner driver will provide the car for practice. Comprehensive training and ongoing support will be given to volunteers.
You can choose to have a driver in the Hutt, Porirua or Wellington. You'll make a positive difference to her life and her family's, receive training in new skills, increase your understanding of another culture and contribute to improving driver safety on the road.
Next training scheduled: 30 October from 10 am to 3.30 pm.
Contact: Mylène or Susan at TTC@crf.org.nz or call 04 801 5812.
---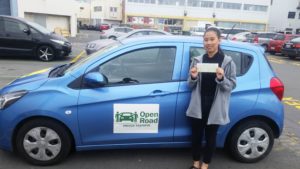 Vacancy – Male and female volunteers on Open Road
Make a real difference in the lives of a former refugee by helping them learn to drive! ChangeMakers is seeking volunteer driving mentors for the Open Road Driver training programme in Wellington.
You don't need to be an expert or use your own car but if you are:
A patient, confident driver over 21 years of age;

The holder of a full New Zealand driver's licence for at least two years;

Available for 2 x 1 hour practice sessions for 12 – 16 weeks;
Available to volunteer in Wellington;
We would love to hear from you!
We will support you by providing:
A dual control car to carry out lessons;
Lessons alongside a qualified driving instructor (so you know exactly what you are doing);
Training and ongoing support.
Contact: Kate at kate.twyford@crf.org.nz or call 04 801 5812.